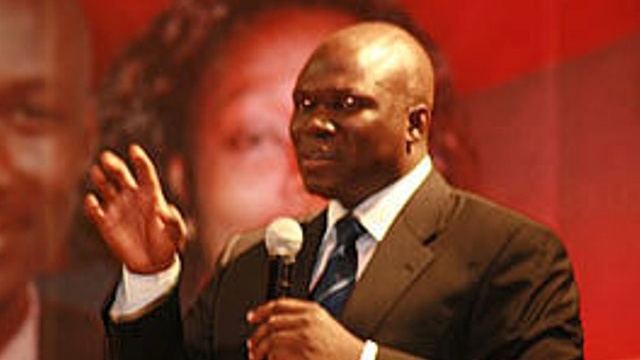 The Special Adviser to the President on Media and Publicity, Dr. Reuben Abati, has said that his boss, President Goodluck Jonathan, would not be in a haste to free the Chibok girls and in the process endanger their lives.
Abati stated this in his op-ed reacting to: "What Nigerian President Goodluck Jonathan should have written," by Karren Attiah of Washington Post.
Abati's op-ed reads:
7th July, 2014
Washington Post: My Letter to the Editor
"Nigeria is aggressively confronting the Boko Haram threat" in response to Karen Attiah's misinformed July 3 op-ed, "#BringBackMyEasyDays".
The claim that the president has a "do-nothing" attitude toward rescuing the girls is no different than what was written about President Obama's decision not to disclose his efforts to seize and arrest the alleged ringleader of the 2012 terrorist attacks in Benghazi, Libya, that killed four Americans — until he did just that.
Mr. Jonathan won't put the lives of these girls at risk by publicly revealing details of the recovery operation for the sake of satisfying his critics.
Despite Ms. Attiah's claims to the contrary, even before the abductions, the president was engaged in international intelligence-sharing involving West Africa, Europe and the United States, and he had also launched the Counter-Terrorism Centre in Nigeria.
He has been working intensely on the very challenging situation posed by Boko Haram since assuming office, including declaring a state of emergency in May 2013 in the three most affected northern states."
Reuben Abati, Abuja, Nigeria
Attiah, had written on July 2, 2014 in Washington Post:
What Nigerian President Goodluck Jonathan should have written
By Karen Attiah July 2
Karen Attiah works in The Post's Editorial department.
Last month, The Post published an op-ed by Ni­ger­ian President Goodluck Jonathan answering criticism of his response to the kidnapping of hundreds of schoolgirls by the group Boko Haram. This is what he should have written.
I have remained quiet about Nigeria's continuing efforts to find the girls kidnapped in April from the northern town of Chibok, because, honestly, I hoped the world would ignore it as just another "African tragedy." But the attention brought by #BringBackOurGirls forced my administration to abandon its usual do-nothing strategy. I admit that for weeks, the Nigerian military was nowhere to be seen in Chibok and aggrieved parents had to resort to venturing into the jungle on foot to search for their children. But I assure everyone, we are doing our best.
I am speaking out now because national elections are in less than a year and my Washington PR firm needs to earn the reported $1.2 million I am paying it to reverse the criticism that has overshadowed all my good intentions.
Nigeria's President Goodluck Jonathan speaks during the groundbreaking ceremony of the Centenary City project in Abuja June 24, 2014. (Afolabi Sotunde/Reuters)
I wish to assure Nigerians and the international community that, even though my military officially wrapped up its investigation into the kidnappings, without locating the girls, we are sparing no resources. We will keep the findings of the investigations secret, since my good-faith assurances are enough.
My heart aches for the missing children and their families. In fact, my heartache was so painful that I canceled plans to visit Chibok. Instead, I eased my pain by flying to Paris for a national security summit. My first lady, Patience Jonathan, shares in my grief for the families affected by the tragedy. She was so troubled by the agitation of protesters demanding their girls back that she told them to stop their actions and allegedly ordered the police to detain several protest leaders.