On December 5, 2017, three wise men came from the East. They had come to see me at the State House, Abuja. Who were they and what message did they bear? Surely, not gold, frankincense and myrrh. Those are gifts for Divinity. The three men were Igwe Cyprian Madu Nevobasi; Igwe Omeluenyi of Aguneese, Ezeani 111 of Mmaku Kingdom, in Awgu Local Government Area of Enugu State, Chief Emmanuel Okeke; and Hon U.S.A. Igwesi, a former member of the House of Representatives.
Of the three people, Hon. Igwesi was the only person I'd known, right from his days as a Federal lawmaker. Soon, the Igwe unfolded the reason for the visit. He would be celebrating the 14th anniversary of his coronation with a grand Ofala Festival on January 2, 2018, during which some people would be conferred with chieftaincy titles. One of them would be my principal, President Muhammadu Buhari, and the other would be myself.
Shock is a very mild word to describe what I felt. Chief. Who, me? We all have dreams, desires and aspirations in life. But for me, being a Chief is not part of it. Not at all. Chief. Who, me? It was incredulous.
The Igwe handed me two official letters of invitation. One for the President, and one for me. He said I could always represent the President, since state matters may not permit the country's number one citizen to attend personally.
Why me? As the question was running through my mind, the Igwe explained: "My traditional cabinet nominated you, because we have been watching how you serve the country, and our President with passion. President Buhari is God-sent, to bring enduring change to our country. And from the way you serve him, we believe you are deserving of a title from Mmaku Kingdom."
My visitors left, and my dilemma began. Chief. Who, me? I am a church person, and may play greater roles in the Lord's vineyard in the future, as God gives the grace. Can you combine that with chieftaincy? But the Igwe had told me it was purely a ceremonial affair, with nothing ritualistic involved. And before he left my office, he had even prayed. It was a Christian and not a traditional prayer. Encouraging.
And then I remembered! On June 1, 2015, when I resumed as Special Adviser on Media and Publicity, I'd met President Buhari at Defence House, which was then his temporary abode, before he moved to the Presidential Villa. How did he welcome me? Jocularly, he had said: "Chief Adesina, welcome to Sambisa House." We both laughed. Chief? Well, just some fun. That was what I thought.
Then, in October 2015, we had travelled to India. And as he does in most of his official trips, the President found time to meet with the Nigerian community in that country. As he recognized members of his entourage, the President called me "Chief Adesina" and we all laughed. He was to repeat the same thing a couple of times in the next two years, all lightheartedly. Now, come has come to become. Didn't know President Buhari was also a prophet.
I began consulting. The first person I expected to baulk was my wife. An Akure, Ondo State princess herself (she is nee Adesida), I expected her to say a resounding no, based on Christian convictions. If she rejected it, "who born me" to accept the title? Our women are often our bosses. But curiously, she only raised one or two questions, and seemed satisfied with my answers. The Igwe's prayers had worked!
Next, the Adesinas, both at home and in the Diaspora. No dissenting voice. And next, my local church pastor, at the Foursquare Gospel Church. He was very practical about it: "Whether we like it or not, you have become a political figure in the country, and you may not be able to avoid things like this. As long as there are no rituals and it is purely a ceremonial title, you may take it."
The final consultation was with the President. The visit of the three wise men from the East and the chieftaincy nomination had been widely published, and the President, an avid newspaper reader, was well aware, before I met him. The glow in his eyes when I told him about the event gave him away. He gave his blessings. He also gave me another blessing, which I won't disclose here, lest some people ask for their share. Lol.
Every Christmas, the President encourages all Christians round him to take time off and be with their families. He bade me goodbye, saying till after the New Year holiday, since the event was billed for January 2.
On New Year day, I prepared to leave Lagos on an afternoon flight, with my prospective Lolo (that's the title for wives of chiefs); her younger brother, Dr. Niyi Adesida; and my childhood friend, Tayo Oladapo. Others were to come on morning flights the next day from Lagos and Abuja. And then, a spanner was almost thrown into the works.
When we checked in for Enugu, the airline officials had shaken their heads. Flights had not gone to that city for about a week, they said, because the weather had been consistently bad. My son, an airline pilot, had also hinted me about it the previous day. But we hoped the weather could have a change of heart, seeing it was the first day of a New Year.
Two hours after the scheduled time, the flight to Enugu was eventually cancelled, due to poor weather. Every airline did the same. The next alternative was to go through Owerri, and do three hours journey by land. But all Owerri flights had left for the day. The potential Chief was about to be stranded in Lagos.
My Secretary at the State House, Rosemary Ezeugoh, had gone ahead to Enugu on December 30. I phoned her, and she contacted the ADC to Governor Ifeanyi Ugwuanyi, an old friend, who had also promised that he would be fully involved in the ceremony, and be my host. The ADC, Nnadozie Peter, who turned out to be a very decent and cultured police officer, encouraged us to proceed to Port Harcourt, and that he would meet us with a security convoy.
We changed our tickets to Port Harcourt, landing by 4.10pm. Journey to Enugu would normally be about five hours, but with the outriders and escorts, we made it in three hours and 10 minutes. Of course, you know where our hearts were throughout the journey. In our mouths! But God was gracious and faithful.
Governor Ugwuanyi (fantastic man, I must add) hosted us to dinner. Don't mind that he is a Peoples Democratic Party governor. He also invited Mr. Osita Okechukwu, a core Buharist and Director General of Voice of Nigeria, who came with his wife. Perfect display of politics without bitterness.
D-Day. January 2. Mmaku is about one hour drive from Enugu. The governor insisted that myself and my entourage must ride in his convoy, as he would attend the ceremony. It was a God-ordained decision from the governor, as all those who were to have accompanied me had been stranded in Lagos and Abuja. Delegation from my former office, The Sun Newspapers, made of Steve Nwosu, the Deputy Managing Director; Abdulfatah Oladeinde, Editor of the Sunday paper; Femi Babafemi, Editor of the Saturday paper; as well as my old friend, Shola Oshunkeye, waited hours on end till their flight was cancelled. The same happened at Abuja end, with many would-be guests going back home in disappointment. The only guest who made it from Abuja was my friend, Mohammed Akwu, who had driven all the way with two others. Can't we have what aviators call Instrument Landing Systems at Enugu Airport, in which case planes could land in the most severe weather? Something to discuss with Senator Hadi Sirika, the Minister of State in charge of Aviation. Nigeria must keep pace with the rest of the world.
Mmaku was agog. The Igwe was resplendent in his traditional regalia and accoutrements. I had also dressed in Igbo attire. I didn't look bad in it, or what do you think? Many movers and shakers of society were at the Ofala ground. A red letter day for Mmaku, if ever there was one.
First to receive us earlier in the day was His Royal Highness, Eze Barrister Igwesi Obi Igwesi, Chinwaeze 11 of Obuoffia and Omuoha 1 of Omuoha, in his own palace. He and his traditional cabinet treated us to an impressive reception, during which he applauded President Muhammadu Buhari, and the change he is bringing to the country. His words: "Before now, we Igbos were suspicious of President Buhari, but we have now seen his programmes, and have no choice but to embrace him. I urge other Nigerians to support him beyond 2019, if he intends to seek another term." Beautiful! I tell you, wise men still come from the East.
All the way from Osun, my state, was the Alaagba of Agba Kingdom, Oba Rufus Ogunwole, who added his royal touch to every place where I was received. He came with his chiefs. May the Oba reign for long. Amen.
Installation time. President Buhari was given Isi Mmiri Mmaku, which, freely translated, means: Fountain of Support. I received the insignia of the title on his behalf. Then, my wife, Adenike, was made Lolo, and shortly after, entered the Nwanne Di Namba (A Brother from Another Land). And that was your's truly. It still sounded like a dream.
I thank all my friends from the East who came to honour me. Deputy Senate President, Dr. Ike Ekweremadu; Elder Ekeoma E. Ekeoma and his wife, Ngozi, who came with three other friends; Ezinne Ojukwu, who represented her father, Chief Ojukwu of Ekesons Motors; Rev. Austin Epunam, who represented Chief Innocent Chukwuma of Innoson Motors; Dr/ Kelechi Nwagwu; Ichie Tony Onyima, former Managing Director of The Sun Newspapers; Ismail Omipidan, Chidi Nnadi, Uche Nnamani, Marcel Alozie and Bethel Obioma, all of The Sun (Dr Orji Uzor Kalu, Publisher of Sun and New Telegraph had given me two full pages of congratulatory adverts); Chooks Oko; Oge Nnenne Edoh; Ifeoma Ogukwe and many others I can't mention for space constraints. I appreciate you all.
About a month ago, the thought of ever being a Chief never crossed my mind. So, why am I one today? Because it is good for our country. The fact that the offer came from outside my Yoruba ethnic stock was very significant. It is good for national unity and cohesion. Nigeria will remain one country, where in the words of our National Anthem, peace and justice shall reign. Again, though tribes and tongues may differ, in brotherhood we shall stand.
Also, the title was offered by a kingdom that recognizes the good job President Buhari is doing for the country. I was honoured because I am deemed to be serving him well. It would have been both impudent and imprudent to have said no.
And finally, the title was unsolicited. I never met Igwe Nevobasi, till he visited my office. And the fact that such a prominent figure came personally to inform me of the nomination was humbling and remarkable.
My final words. Be careful what people call you. It may as well come to pass. President Buhari had always called me Chief. It has become prophetic. Also, I worked at The Sun Newspapers for 13 years, starting as founding Editor and rising to become Managing Director/Editor-in-Chief. I had always written to defend the cause of the Igbos in Nigeria. When they seemed to be making political mistakes, I had also pointed out the danger. It got to a time that a number of newspaper readers from the East began to address me as Nwanne Di Namba. And what title have I got today? The same. I had opened my mouth in amazement when the title was eventually unfolded by the Igwe. Mind what people call you. The biblical Nabal was foolish, because his name meant foolish. Simon meant a reed, an inconstant, untrustworthy fellow, tossed about by the wind. Jesus changed the name to Peter, which means The Rock. He became a pillar of the early Church. Mind what you are called. It may well come to pass.
. Adesina is the Special Adviser to President Muhammadu Buhari on Media and Publicity.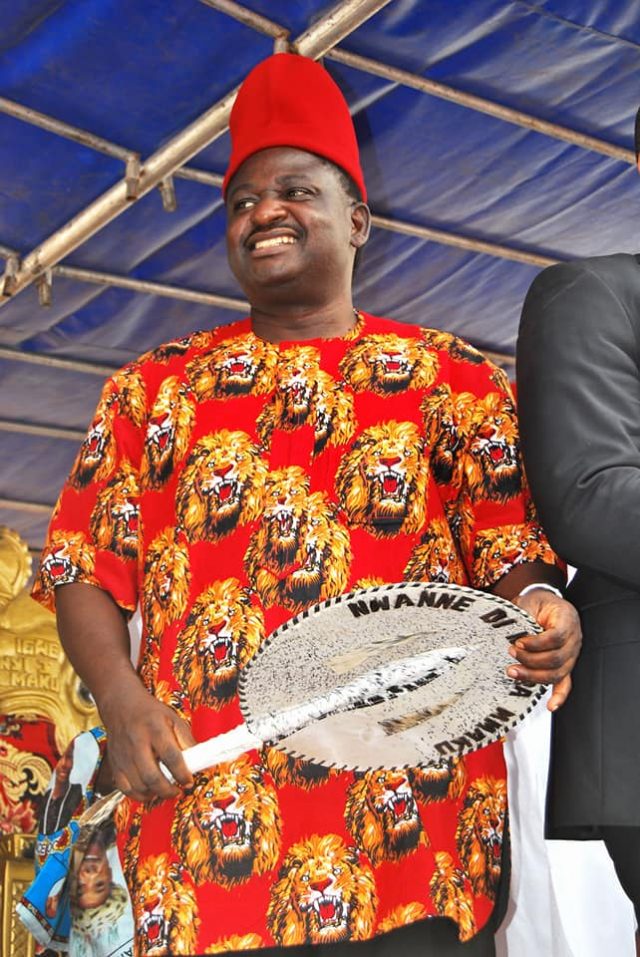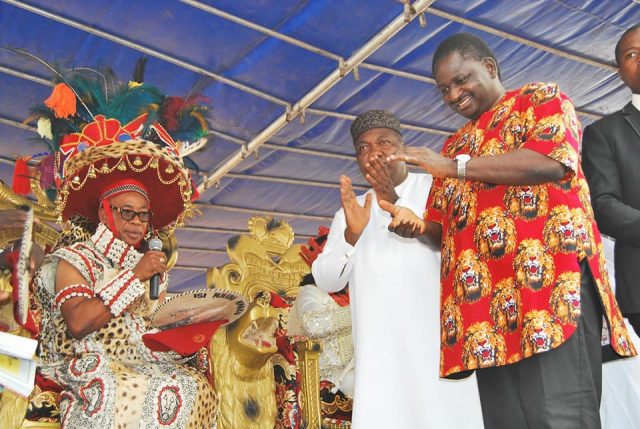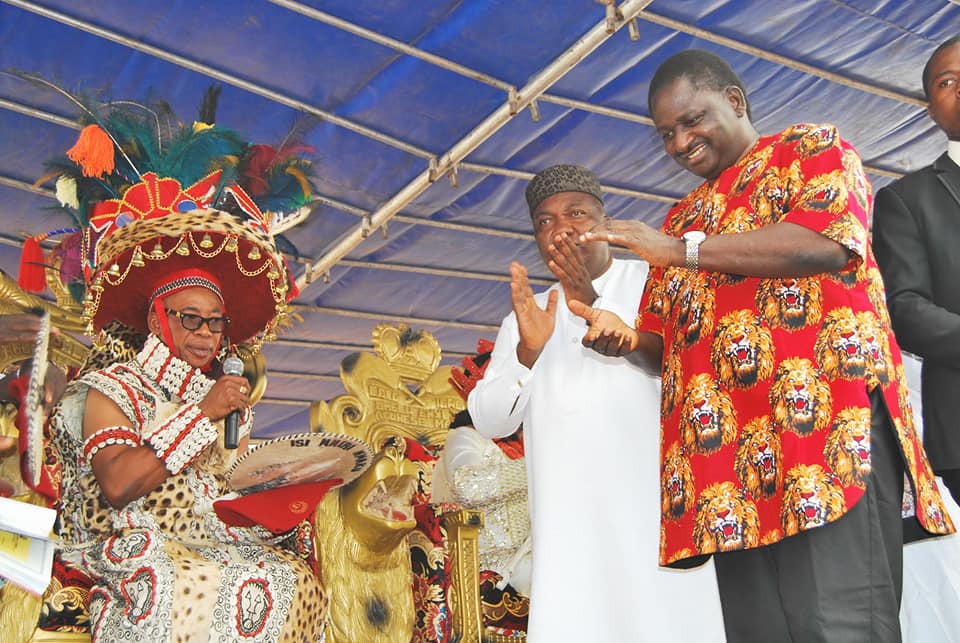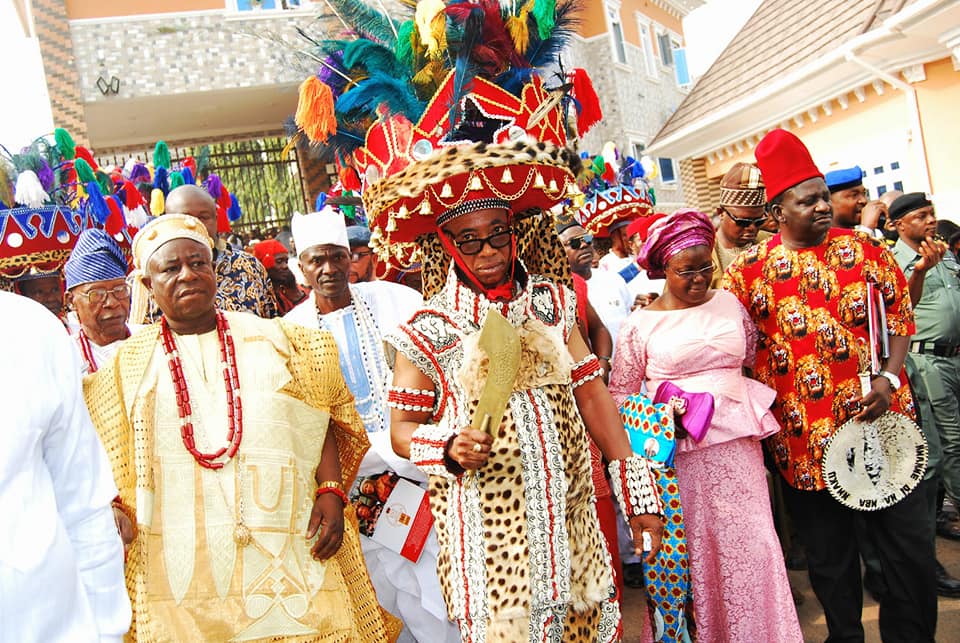 Advertisement