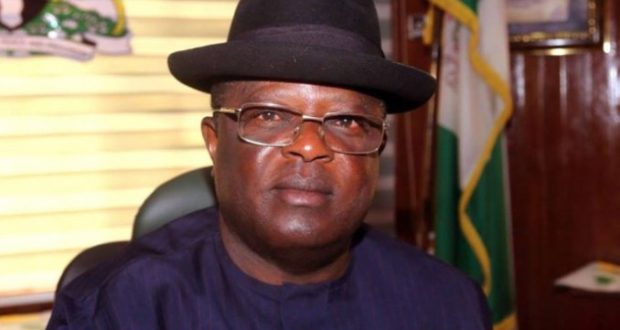 Governor David Umahi of Ebonyi has said that his administration and the Peoples Democratic Party would favour no candidate during the 2019 general elections' for House of Assembly.
Umahi made the assertion on Monday at Ezillo, Ishiellu Local Government Area of Ebony during a solidarity rally in his honour.
The News Agency of Nigeria reports that the governor had earlier at several fora, canvassed for the re-election of all the House members.
Umahi, however, noted that the only exceptions were the Speaker and the Deputy Speaker with all the contestants required to organise rallies in their constituencies to test their popularities.
He said: "We are appealing to the 'divine mandate' his (political structure) for peaceful primaries because we are not going to stop anybody from contesting.
"Continuity will, however, benefit Ebonyi people but we are not going to impose unpopular candidates on the people during the elections.
"I will attend the rallies you are going to organise individually because it is not only the delegates that will elect you during the primaries."
Umahi said that his vote during the election would be tied to those of the House of Assembly contestants and the masses needed not to be disfranchised in the process.
He assured: "We will support any contestant that mobilises the greatest number of people because I don't want to take risks during the election.
"You should therefore, go back to the field and mobilise the people and not go to sleep because the governor has endorsed you."
He said the elders of the state would sit and decide on the National Assembly positions to avoid possible crises.
He said: "We will not allow the other parties to benefit from our situation but ensure that all matters concerning the positions are resolved amicably without rancour.
"I thank the people of Ishiellu for the reception and commend them for maintaining the peace we instituted in the area, especially at the Ezillo and Ezza-Ezillo communities."
Chief Austin Umahi, the PDP South-East Zonal Vice-Chairman, commended the people for supporting the governor and urged them to massively vote for him in the 2019 elections.
Umahi, who is the governor's elder brother, noted that the best support for the governor was for the people to massively register in the ongoing voters registration exercise.
He said: "Ebonyi is a PDP state as other political parties exist on the pages of newspapers, magazines and the social media."
Chief Onyekachi Nwebonyi, the PDP Chairman in Ebonyi, also assured that the party would not endorse any candidate but allow all contestants to freely pursue their ambitions.
Henry Eze, Chairman of the council, said the reception was to thank the governor for his numerous favours to the people in areas of infrastructure, empowerment and political appointments among others.
NAN reports that stakeholders pledged their solidarity to the governor as he was given the chieftaincy title of "Achinagbara Oha'' meaning the seed that spreads to all by the council's traditional rulers.