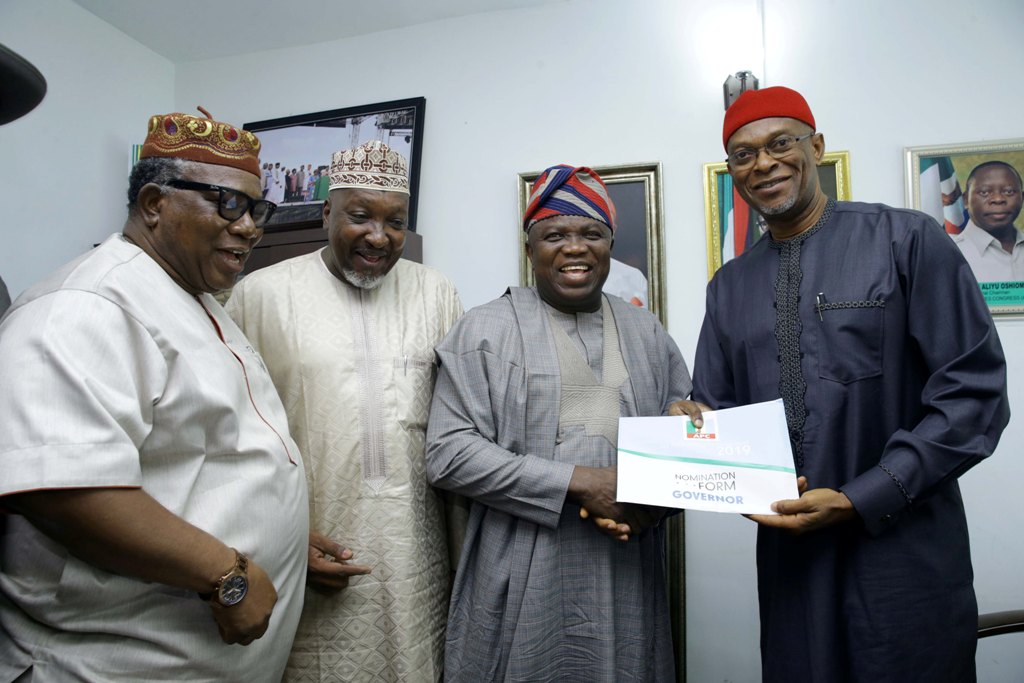 The Lagos State Governor, Akinwunmi Ambode, on Monday officially declared his intention to seek re-election in 2019 on the platform of All Progressives Congress, saying he remains undaunted and resolutely committed to achieve more for the State.
Ambode disclosed this when he addressed scores of residents and party faithful who defied the heavy downpour to witness the declaration ceremony in Alausa.
Ambode recalled how the journey began four years ago when he called on Lagosians to join him in a journey of selfless service to build a secure and prosperous State driven by a vibrant economy and supported by quality service, equity and justice, saying it was gratifying that the people believed in him and gave their support.
According to the Governor: "In the last three and a half years, I have fulfilled my promises to you to make Lagos work for all. With your support, we have made Lagos a better place and changed the face of our State. I did not do it alone; we did it together, because you believed.
"Our State has remained steadily prosperous because of your positive outlook. I urge you to always stay positive in your personal and communal lives and continue to aspire to great things."
While thanking all Lagosians for believing in his administration and for the support so far, Governor Ambode, who had earlier picked up his expression of interest and nomination form at the National Secretariat of the All Progressives Congress in Abuja, specifically appreciated members of APC and political leaders in the State, especially the party's National Leader, Asiwaju Bola Ahmed Tinubu, for giving him the platform to contribute to the further growth and development of the State.
The Governor said though a lot had been achieved, he was nonetheless not daunted or tired to achieve a lot more for the State, adding that such was the reason for humbly seeking the support of the people to achieve more for the State.
He said: "In these three and a half years as your Governor, I have seen visible proof that we can achieve unbelievable things when we all come together with no more than our belief in our dreams.
"We achieved because you believed. But there is still a lot more to be done. But I am not daunted. I am not tired. And I am sure you feel the same way because we all envision a better Lagos, a Lagos of our dreams.
"So, I humbly call you again, to give me your support as I seek to continue with your mandate to steer the affairs of our State. I ask you to believe again and together, let's achieve more."
Also speaking, the representative of Lagos East Senatorial District, Gbenga Ashafa, said Governor Ambode had already been endorsed for a second term by Tinubu on account of his sterling performance in office.
According to Ashafa: "We are so proud to have Governor Akinwunmi Ambode as our Governor.
"As the Senator representing Lagos East Senatorial District, which produced him, even though he is for the whole of Lagos State and Nigeria, we are saying we are very happy to endorse him (Governor Ambode) for a second term on the instruction of our leader, Asiwaju Bola Ahmed Tinubu."
Among scores of APC leaders and members present at the declaration were the wife of the Governor, Bolanle Ambode; Deputy Governor, Dr. Idiat Adebule; Secretary to the State Government, Tunji Bello; Senator Musiliu Obanikoro; Ashafa; Senator Ganiyu Olanrewaju Solomon; members of the House of Assembly; members of the State Executive Council; and all the 57 Local Government Chairmen, among others.