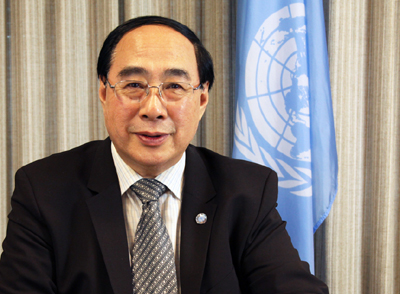 The United Nations Security Council on Thursday welcomed the peaceful conclusion of a special transitional regime established by an agreement between Nigeria and Cameroon concerning the Bakassi Peninsula.
The 15-member body in a statement commended the governments of Nigeria and Cameroon "for their commitment in honouring their obligations to comply with the decisions of the International Court of Justice and for the responsible and peaceful way in which they resolved their differences on this matter."
In June 2006, the two countries signed the UN-backed Greentree Agreement setting the terms and timeframe for the implementation of the 2002 ruling of the ICJ, which transferred the Bakassi Peninsula from Nigeria to Cameroon.
Nigeria formally ceded the territory in 2008 and since then a transitional phase has been in place to give full sovereignty of the territory to Cameroon.
The council commended the role played by the UN Office for West Africa in chairing the Nigeria-Cameroon Mixed Commission and the Follow-up Committee established to monitor the implementation of the Greentree Agreement.
"The members of the Security Council commend the efforts of the Nigeria-Cameroon Mixed Commission in facilitating the performance of the obligations under the judgment of the International Court of Justice and the demarcating of the land and maritime boundary between Nigeria and Cameroon," it said.
Council members also encouraged both countries to continue to enhance "cross-border confidence-building measures that address the security and well-being of the populations affected by the demarcation process."
Copyright The Eagle Online.
Permission to use quotations from this article is granted subject to appropriate credit being given to www.theeagleonline.com.ng as the source.
Follow @DEagleOnline