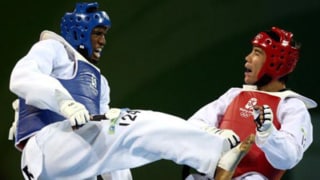 The Taekwondo Team of the Chika Chukwumerije Sports Foundation will be making their international competitive debut at the 8th Korea Ambassador Cup Taekwondo Championships, billed to take place on January 13 and 14 at the Accra Sports Stadium in Ghana.
The four-member team consists of 17-year-old Elizabeth Anyanacho [Female -73kg], 19 year old Peter Itiku [Male -87kg], Chinonso Ogbonna [Male -68kg] and Darius Danlami [Male -63kg].
It will be led by three-time Olympian, Chika Chukwumerije, and Team Manager, Nicholas Olowo.
For the only female on the contingent, Elizabeth Anyanacho, she is thrilled with the upcoming challenge.
Anyanacho said: "It is a totally new experience for me. I have never left the shores of Nigeria and I have never competed in a proper tournament. Doing both at the same time will only increase my confidence. The trials against my two team mates in camp was difficult but I am glad I made the final selection, and I will do my best to win a medal in Accra, even if it is just my very first tournament."
For the CEO and three-time Olympian, Chika Chukwumerije, it is just training and learning experience for the athletes.
She said: "It is important to expose our young and upcoming athletes to foreign tournaments, whenever we can. Personally, it is impossible to know how they will respond to the pressures they will face in Ghana, but I am confident that they will come out more knowledgeable. This is the goal. I have given them a target of two medals from four athletes, even though it is a tall order."
Copyright The Eagle Online.
Permission to use quotations from this article is granted subject to appropriate credit being given to www.theeagleonline.com.ng as the source.
Follow @DEagleOnline