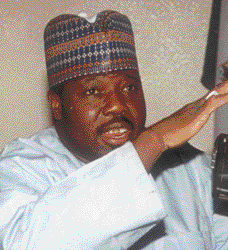 A former Governor of Borno State, Senator Ali Modu Sheriff, has said the claim by the representative of Borno Central Senatorial District in the National Assembly, Senator Ahmad Zanna, that he knows nothing about the activities of terrorists in the country was far from the truth.
Sheriff said it was common knowledge that Zanna takes Nigerians for training in terrorism in Afghanistan and Syria.
He said though the preferred destination of Zanna for the training was Saudi Arabia, he nonetheless makes use of Afghanistan and Syria, taking the youths by road.
Sheriff alleged in a statement by his Special Assistant, Comrade Umar Duru, that 27 of such youths remain missing till date while on the journey to Afghanistan and Syria.
The statement by Sheriff, the Chairman of the Board of Trustees of the All Nigeria Peoples Party, reads in full: "It is on record that the Joint Task Force in Maiduguri had on Friday 19th October, 2012 announced the arrest of one Shuaibu Muhammed Bama in the house of a serving Senator along Damboa Road, GRA, Maiduguri. It is on record that shortly after the JTF announcement, Senator Ahmed Zanna who represents Borno Central came out publicly in a BBC Hausa service interview to own up that he is the only senator whose house is along Damboa Road; he also went ahead to admit that the arrested suspect is his nephew and lives with him in his house.
"It is also on record that the State Security Service has invited Senator Zanna to clarify his involvement with the suspect and his links with Boko Haram.
"Senator Zanna in a comic u-turn, shortly after these developments, told journalists in a face-saving interview that while he could not deny his relationship with his nephew, he disowned his house where the JTF arrested the suspect, stressing that the house belongs to Senator Ali Modu sheriff the immediate former governor of the state.
"Given his recent political encounter with the immediate past governor, now the BOT chairman of ANPP, Senator Ali Modu sheriff, he appears desperate to settle scores by dragging Ali Sheriff into the controversy.
"It is laughable that instead of defending his obvious involvement with Boko Haram, given his past antecedence where people finger him as illegal importer of arms via his Hajj-by-road fame, Senator Zanna is desperately looking (for) somebody to hang for his sins.
"It is common knowledge in Borno state that Senator Zanna takes along some hapless Nigerians on a seeming religious voyage by road only to put some of the them into terrorist activity and illegal arms importation. Some of the so-called pilgrims by road have been traced to terrorists' camps in Afghanistan and Syria, and not Saudi Arabia, their preferred destination. It is very much on record that 27 of such pilgrims are still missing uptill date.
"Senator Zanna's inconsistencies in trying to defend himself are clear indication of a sinking man's desperate attempt to hang himself on anything available in order to save his neck. If not so, what would his nephew be doing in the so-called house of Senator Ali Sheriff, the man he said is his political rival?
"Contrary to his claims in the media that he had parted ways with the suspect, we can authoritatively confirm that his nephew, Shuaibu, was still his associate up to the time of his arrest.
"It is an act in futility for him to try to name Ali Sheriff as an accomplice in his nefarious activity with Boko Haram, knowing fully well that the wild allegations being leveled by him will never amount to an acquittal of his guilt.
"The one million dollar question is why has Senator Zanna never spoken against the atrocities being committed by Boko Haram, rather he has been calling for the declaration of state of emergency or the disbandment of the JTF which he knew are antithetical to the quest for peace.
"Again being the second senator fingered, as having links with Boko Haram, it is a confirmation of the wildly believed theory that the PDP in Borno state is the engine room behind Boko Haram.
"At his age and with the position he holds as a senator of the Federal Republic we felt it is the height of un-patrioticism and irresponsibility for Senator Ahmed Zanna to not only fuel the crisis in Borno, but to attempt to drag the names of descent citizens, like Ali Sheriff in the mud.
"We know that since his inauguration Senator Ahmed Zanna has never visited Borno nor his constituency even for once can afford to play politics with the serious issue at stake by sponsoring terrorism against his own people.
"On this note, we want to call on the relevant security authorities to fully investigate the incident and Senator Zanna's possible links with Boko Haram, and also his Hajj-by-road activities for which he was suspected to have used as a façade for the importation of arms and window for the training of terrorists."
Copyright The Eagle Online.
Permission to use quotations from this article is granted subject to appropriate credit being given to www.theeagleonline.com.ng as the source.
Follow @DEagleOnline