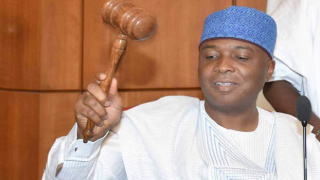 The three newly-elected representatives of the three Senatorial Districts of Rivers State have been inaugurated by the President of the Senate, Dr. Abubakar Bukola Saraki.
Saraki administered the oath of office on the senators on Thursday.
Those sworn-in were Magnus Abe for Rivers South East, George Sekibo for Rivers East and Osinakachukwu Ideozu for Rivers West.
While Sekibo and Ideozu emerged on the platform of the Peoples Democratic Party, the All Progressives Congress threw up Abe.
The rerun was held on December 10, 2016 following the invalidation of the legislative elections held in 2015 by the Court of Appeal.
Copyright The Eagle Online.
Permission to use quotations from this article is granted subject to appropriate credit being given to www.theeagleonline.com.ng as the source.
Follow @DEagleOnline