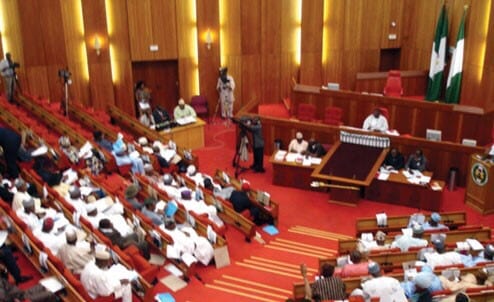 The Senate has released the list of Federal Government agencies defaulting in the submission of its Budget estimates to the National Assembly.
The Senate had on Tuesday complained about the failure of no fewer than 38 agencies of the Federal Government to submit their Budget estimates for 2017.
Listed as topping the list were the Central Bank of Nigeria and the Nigerian National Petroleum Corporation.
The Senate, however, released the full list of the defaulting agencies on Tuesday night.
The agencies include Bureau of Public Enterprises (BPE), National Agency for Science and Engineering Infrastructure (NASEI), Nigerian Airspace Management Agency (NAMA), Nigerian Shippers' Council (NSC), National Maritime Authority (NMA), Raw Materials Research and Development Council (RMRDC), National Sugar Development Council (NSDC), Nigerian Postal Service (NPS), Nigerian Ports Authority (NPA), Federal Airport Authority of Nigeria (FAAN), Securities and Exchange Commission (SEC), Nigerian Tourism Development Corporation (NTDC), National Communications Commission (NCC), National Agency for Food and Drugs Administration and Control (NAFDAC), Nigerian Customs Service (NCS) and National Broadcasting Commission (NBC).
Others are National Insurance Commission (NIC), News Agency of Nigeria (NAN), Nigerian Copyrights Commission (NCC), Nigerian Deposit Insurance Corporation (NDIC), Nigerian Civil Aviation Authority (NCAA), Federal Inland Revenue Service (FIRS), Nigerian Immigration Service (NIS), Nigerian Electricity Regulatory Commission (NERC), Radio Nigeria, Federal Housing Authority (FHA), Nigerian Television Authority (NTA), National Automotive Design and Development Council (NADDC), Nigerian Nuclear Regulatory Authority (NNRA), National Business and Technical Examination Board (NABTEB), Federal Mortgage Bank, National Environmental Standards and Regulations Enforcement Agency (NESREA), Industrial Training Fund (ITF), Corporate Affairs Commission (CAC), Standards Organisation of Nigeria (SON), as well as Oil and Gas Free Zone Authority (OGZFA).