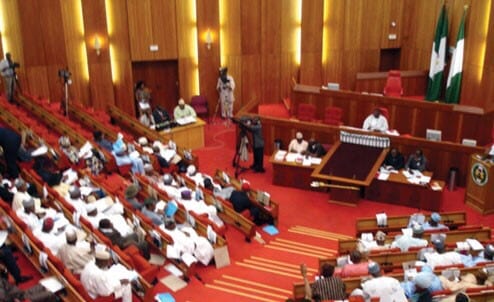 The Senate on Tuesday expressed dissatisfaction with the failure of some Federal Government agencies to submit their 2017 Budget proposals to the National Assembly in line with extant law.
Thirty-eight agencies are said to be in violation of the law.
Among the agencies are the Central Bank of Nigeria and the Nigeria National Petroleum Corporation.
At the resumption of plenary session, the Deputy Senate Leader, Senator Bala Ibn Na'Allah, who drew the attention of his colleagues to the abnormality, said it is wrong for agencies to spend money that has not been appropriated by the legislature.
Na'Allah said his intention is to bring the issue to the floor as a motion so that senators will understand the implications and the need to assist the government to fight corruption.
"I deliberately decided that I will bring it on the floor so that senators will understand the implications," Na'Allah said, adding: "In our commitment to assist this government to fight corruption, we must stand on our feet that every spirit of our law must be obeyed by those holding public offices. I think that if you permit me I will like to come tomorrow by way of motion, so it can be debated on the floor of the Senate.
"The only approach this Senate can take to assist this government in fighting corruption is to insist that gross abuse of power and misuse of power must be stopped by every government agency. The only way we can build our institutions is to radically address the issue of abuse of power and misuse of power. I think that if you give me permission, I will like to bring it tomorrow as a motion."
The President of the Senate, Dr. Abubakar Bukola Saraki, while ruling on the point of order, expressed displeasure over the failure by most government agencies to submit their 2017 Budget proposals to the National Assembly for consideration and approval.
Saraki condemned the practice where agencies of government spend money without statutory approval by the National Assembly and ruled that the issue be debated and resolution taken by the Senate on Wednesday.
Saraki said: "We are already in May. How can Parastatals be operating without any budget, especially in this time of the fight against corruption and ensuring that there is transparency in governance?
"We need to take this matter seriously because clearly these agencies are just flouting the guidelines and breaking the law.
"This is a very serious issue because as we all know, in line with the Fiscal Responsibility Act, these budgets are meant to have been submitted to the National Assembly since August 2016.
"They are supposed to have come with the Appropriation document. We have now passed the 2017 budget without the budgets of the parastatals.
"I think this matter really needs to come up as a motion because this is a very serious matter. We need to debate it.
"Leader, this is a very important issue and we must debate it tomorrow and if there is any Committee in exception or that have received from agencies they oversight, then they will have the opportunity to at least clear the Parastatals and Agencies, that have sent their budgets.
"But if as at middle of May, we are saying we have not received any budget from them, then which money are they spending and with what authority?
"We need to look into that and take a decision that may be they can only pay salaries until they bring their budgets here and approvals given.
"I think once and for all, we need to address this issue and put an end to this disregard for laws and areas of corrupt practices."