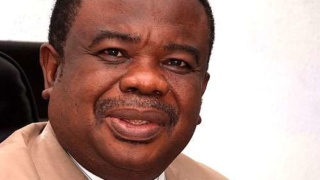 Tony Okoroji's newly released single, "Happy Music", which is currently making waves across radio stations in Lagos, is the first by the showbiz impresario in decades.
The track, which was released under Okoroji's music label, TOPS Record, was first aired on Lagos-based radio station, Beat FM 99, to usher in the New Year.
Chibueze Okereke, the Public Relations Officer of the Copyright Society of Nigeria, said in a statement on Tuesday that the music showed Okoroji still had what it takes to produce songs with great rhythm.
The statement said: "Anyone who has listened to Happy Music will easily conclude that the maestro still has the magic in abundance."
It said that the hot Happy Music video with some vivacious dancers, would hit TV screens all over Nigeria before the end of January.
The statement said the song was a well-coordinated release by TOPS, and that the record label promised to introduce an abundance of talents to the industry in the year.
It said: "TOPS will be a significant player in entertainment production, distribution, publishing and events organisation across the Nigeria in 2017 and beyond."
Copyright The Eagle Online.
Permission to use quotations from this article is granted subject to appropriate credit being given to www.theeagleonline.com.ng as the source.
Follow @DEagleOnline