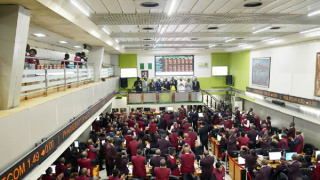 The agriculture sector stocks on Wednesday reversed the negative trading on the Nigerian Stock Exchange with Okomu leading the gainers' chart with N4.10 gain.
The News Agency of Nigeria reports that Okomu Oil garnered N4.10 to close at N44.27 per share.
Presco came second on the gainers' table with a gain of N4.09 to close at N44.19, while Forte Oil appreciated by N1.73 to close at N81.49 per share.
Guaranty Trust Bank improved by 44k to close at N24 and Cadbury appreciated by 21k to close at N9.49 per share.
Consequently, the All-Share Index which lost 0.88 per cent the preceding trading improved by 39.58 points or 0.15 per cent to close at 26,385. 80 against 26,346.24 on Tuesday.
Also, the market capitalisation rose by N13 billion to close at N9.078 trillion against N9.065 trillion posted on Tuesday.
Conversely, Guinness topped the losers' chart, shedding N5.10 to close at N749 per share.
Julius Berger followed with a loss of N1.92 to close at N36.66 and Union Bank of Nigeria shed 22k to close at N5 per share.
Cement Company of Northern Nigeria was down by 17k to close at N4.23 and UAC Property depreciated by 15k to close at N3 per share.
Ambrose Omordion, the Chief Operating Officer, InvestData Limited, attributed the development to pre-earnings season market volatility that characterised the first month of every year.
Omordion said that investors should focus on stocks with fundamentals to minimise loss given that the market and the economic fundamentals remained unchanged.
He said that fiscal and monetary policies makers were yet to provide the needed direction that would drive the macroeconomic indices.
NAN reports that the financial service sector remained the most with UBN emerging investors delight, trading 34.12 million shares worth N170.59 million.
It was trailed by Diamond Bank with a total of 27.97 million shares valued at N27.225 million, while Transcorp sold 22.60 million shares worth N20.359 million.
FBN Holdings traded 19.72 million shares valued at N72.25 million and FCMB Group sold 14.30 million shares valued at N18.08 million.
In all, investors staked N1.05 billion on 197.45 million shares transacted in 3,410 deals against 372.85 million shares worth N1.33 billion traded in 4,068 deals on Tuesday.
NAN
Copyright The Eagle Online.
Permission to use quotations from this article is granted subject to appropriate credit being given to www.theeagleonline.com.ng as the source.
Follow @DEagleOnline