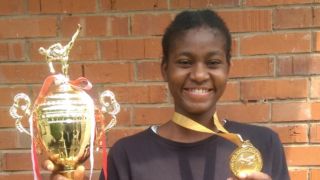 With just two athletes, the taekwondo team of the Chika Chukwumerije Sports Foundation won two medals at the Dakar International Taekwondo Open, which held on March 17 and 18, 2019 at the Ndiaye Stadium, Dakar, Senegal.
Upcoming star, Elizabeth Anyanacho, continued her golden form as she clinched the gold medal in the adult -67kg category and the best female fighter of the event award. Team CCSF Captain, Peter Itiku, won the bronze medal in the male +80kg category.
Elizabeth Anyanacho, who also clinched gold medals and best player awards earlier this year at the Korea Cup in Accra Ghana and CCSF Prix Series I, had her work cut out for her in Dakar.
Her epic battle with USA's Ben Yessouf Tekiath ended in a 6-6 stalemate, before Elizabeth prevailed over her vicious opponent in the golden point round.
Finals was against the hosts and with a full capacity crowd cheering on her opponent, Elizabeth held her nerves to secure an 8-0 victory over Senegal's Aminata Deme.
Peter Itiku, who also won gold medals at the Korea Cup in Accra and CCSf Prix Series I in Abuja, beat Senegal's National Team player, Malick Niang 8-5 in the first round, demolished Therno Diop of Senegal's University Club 12-4.
He went on to defeat El Hadji Fall of As Pririne Club 11-5 in the quarter-finals before losing to Senegal's National Player, Laye Seye 11-1 in the semi-finals.
Seye had earlier on conquered Cape Verde's Soares Lenine and Mali's Toumani Diabate en route to adding the Nigerian to the list in the semi-finals.
For golden girl, Elizabeth Anyanacho, participation at the event was an important learning curve in her early career.
She said: "Our mentor, Chika Chukwumerije, kept us calm.
"He told us to just focus on all the things we learnt in training and try it out here.
"That focusing on our performance was more important than focusing on medals.
"That is what I did, and I am happy I have gained valuable experience.
"I know there is a lot to learn and I will try and keep my focus moving forward."
Copyright The Eagle Online.
Permission to use quotations from this article is granted subject to appropriate credit being given to www.theeagleonline.com.ng as the source.
Follow @DEagleOnline