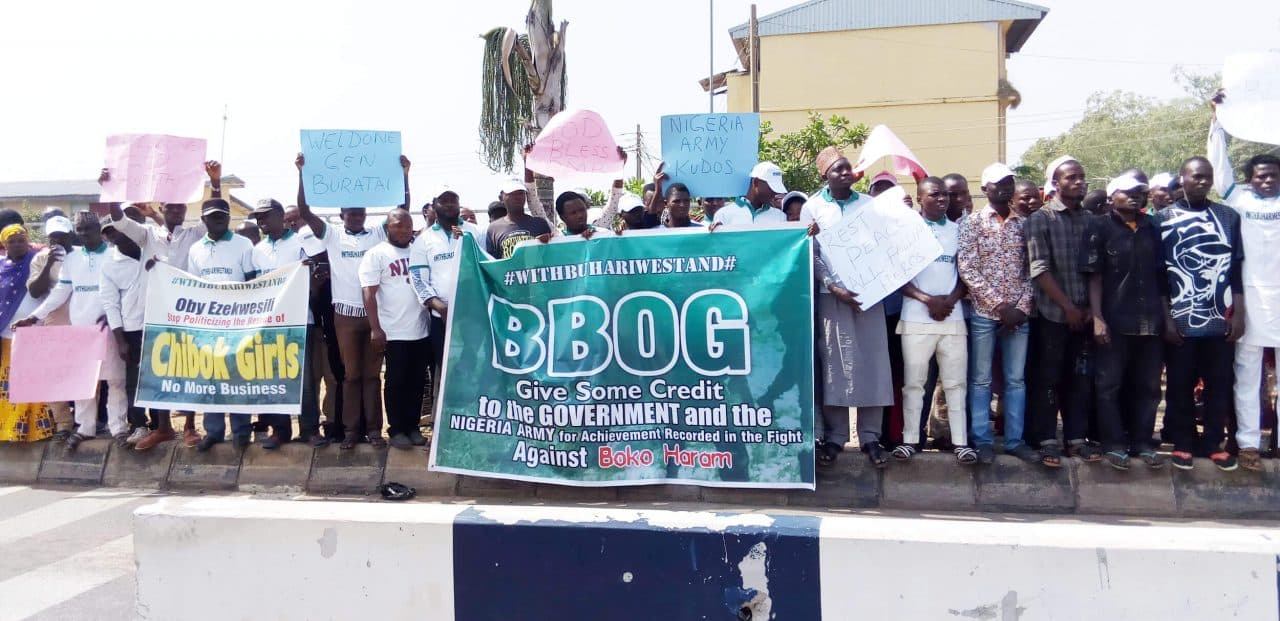 New group emerges to counter BBOG
The withBuhariwestand group, led by Comrade Idris King, marched to the Nigerian Army Headquarters in Abuja on Tuesday
A group, tagged: "WITHBUHARIWESTAND," has emerged to counter the activities of the BringBackOurGirls group led by Dr. Oby Ezekwesili.
The withBuhariwestand group, led by Comrade Idris King, marched to the Nigerian Army Headquarters in Abuja on Tuesday.
King said: "What they, BBOG, came out initially to do was good, but by the manner in which they are going about it now, they are distracting the government and the Army.
"What they are doing is simple and is what I call socio-advocacy terrorism.''
King also denied that his group was sponsored.
He said that they came to identify with and congratulate the armed forces, particularly the Army, for successes achieved so far in the fight against the Boko Haram terrorists in the North East.
He said: "We want to salute the doggedness of the Nigerian Armed Forces, especially the Nigerian Army."
King also said they came to sympathise with families of soldiers who had died in the course of the war.
Major General Chris Jemitola, who addressed the group on behalf of the Chief of Army Staff, Lieutenant General Tukur Buratai, thanked the group for identifying with the army and commended them for their orderly conduct.
Jemitola said: "It is quite painful that when you are doing so much and some people are out to point out fault."
He noted that security was a collective responsibility, adding that nobody could claim to love Nigeria more than Nigerians.
Jemitola, who is the Chief of Policy and Plans, Nigerian Army, urged the group to align with groups of like minds to project the country in good light.
The group marched to the army headquarters with placard carrying various inscriptions.
Some of them read: "BBOG give some credit to the Government and the Nigerian Army for the achievement recorded in the fight against Boko Haram"; "Oby Ezekwelisi stop politicising the rescue of Chibok Girls"; "No more business"; and "BBOG bizness is over".