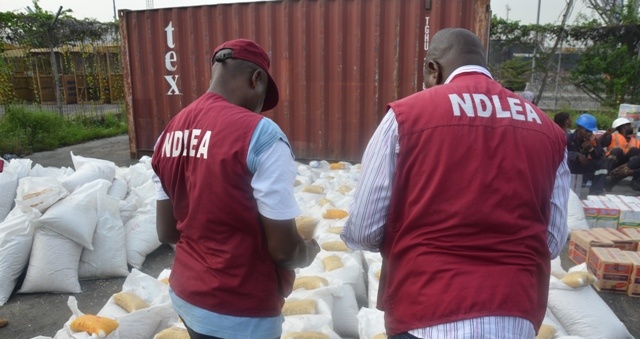 The National Drug Law Enforcement Agency in four years arrested 34,499 persons in connection with drug-related offences across the 36 states of the Federation and the Federal Capital Territory, Abuja.
The arrests were made between 2012 and 2015.
In a report obtained by the Economic Confidential in Abuja, Kano State in the North West geopolitical zone emerged number one among the states in the Federation with highest cases of drug-related offences within the period under review, just as the zone is also number one among the six geopolitical zones in the country with 8,939 cases.
Katsina State comes second with 2,173 cases of arrests by the NDLEA, while Plateau and Ekiti States are third and fourth respectively with 1,342 and 1,088.
Findings by the Economic Confidential revealed that in 2012 alone, 8,052 cases were recorded by the agency; 8,843 in 2013; 8,826 in 2014; and 8,778 in 2015.
In the geopolitical zones after North West, South West is in second position with 6,999 cases, North Central comes third with 5,574 cases, while the fourth position was grabbed by the South South geopolitical zone with 5,545 cases.
The South East and North East geopolitical zones however had lesser cases and arrests with 4,230 and 3,212 respectively.
The North East geopolitical zone with years of terrorists attacks and insurgency is the least with cases of drug-related offences, meaning that terrorism may not likely be connected with drugs, but mindset and coercion.
A careful analysis of the report indicates that of the 34,499 cases of arrests across the country, over 32,000 cases involved men, while a little over 2,000 were of the female category, meaning that men were more involved in drug offences than the women folk within the period under review.
Also in the four years, the quantity of narcotic drugs seized by the agency via the various states and Area Commands was 1,578,723 million.
Of this number, 233,376 were for 2012; 344,985 for 2013; 165,652 was the number for 2014; while the figure for 2015 amounted to 834,709.
More findings by Economic Confidential revealed that NDLEA secured a total number of convictions for drug-related offences put at 7,317 within the period under review.
Of this number, 1,738 convictions were secured in 2012; 1,865 for 2013; 2,054 for 2014; while 1,660 convictions were secured for the year 2015.
. Note: The Economic Confidential is a sister publication of PRNigeria.