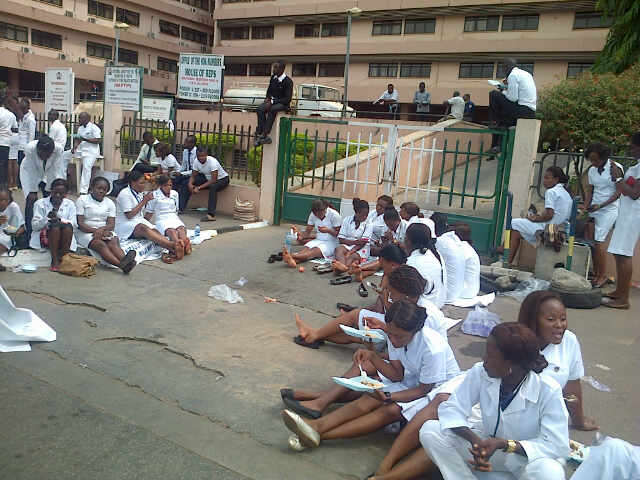 Workers at the National Hospital, Abuja on Tuesday suspended their indefinite strike over non-implementation of their revised conditions of service.
The News Agency of Nigeria recalls that the workers embarked on the strike on May 30.
Members of the Senior Staff Association of the Association of Nurses and Midwives and Medical Health Workers Union joined the strike, which lasted five days.
The Head, Management Information Service of the hospital, Dr. Tayo Haatstrup, confirmed in an interview with the News Agency of Nigeria that the workers had resumed duty.
Haatstrup said that the Chairman of the Board of the hospital, Dr. Tony Okam, met with union leaders and management of the hospital to discuss the contentious issues.
"The issues were resolved and the union agreed to suspend the strike," he said.
The Chairman of the Senior Staff Association of the hospital, Dr. Kilani Jelili, who also spoke to NAN, confirmed that the strike had been suspended.
Jelili said that the association agreed to suspend the strike after leaders of the striking unions had a meeting with the chairman of the board and management.
He said that the chairman appealed to the association to suspend the strike and give management a chance to implement the conditions of service.
He said: "We want to give them the benefit of doubt, so we have decided to suspend the strike until our demands are met and we do not want patients to suffer.
"All we want is the implementation of our conditions of service.
"That is all we ask for."
Jelili said that the chairman of the board promised to address the issues at their inaugural board meeting on June 11
Advert
How I Increased my Manhood Size & Stopped Premature Ejaculation That Scattered My Relationship.. Click HERE For Details.
Copyright The Eagle Online.
Permission to use quotations from this article is granted subject to appropriate credit being given to www.theeagleonline.com.ng as the source.
Follow @DEagleOnline