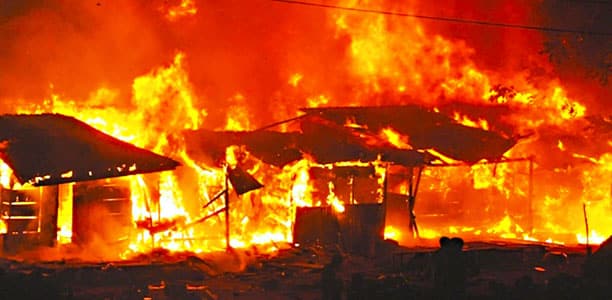 A mystery fire broke out from an Iroko tree in Badagry, Lagos on Monday, defying all efforts by the fire service to put it out, reports the News Agency of Nigeria.
NAN reports that the Iroko tree is located around a traditional worship place in Awhanjigo Quarters, Badagry.
Rasaq Fadipe, the Director, Lagos State Fire Service, told NAN that the fire had been burning for several hours.
Fadipe said: "We got information on the fire at about 7.07am and we got to the scene at about 7.11am.
"The fire started at the middle of the tree.
"We observed that the leaves around the stem were not burnt.
"After observing for some time, we decided to fight the fire; to our surprise, the fire spread to the top.
"A chief priest in the area, Chief Gengen, asked the firemen to stop fighting the fire.
"We were told that this is the third fire incident on the Iroko tree.
"The first fire incident happened in the 70s, the second in 80s, before the latest one."
Fadipe said the fire service had evacuated people in the area for their safety.
He said: "There is a church, a post office and other buildings.
"We are still watching, while many people are coming to watch the mystery fire on the Iroko tree."
NAN.