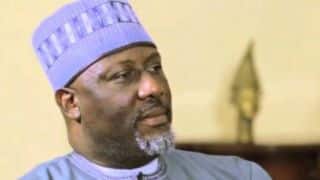 The Chairman, Senate Committee on the Federal Capital Territory and representative of Kogi West Senatorial District, Dino Melaye, has said following the Senate's rejection of the nomination of Ibrahim Magu as the Chairman of the Economic and Financial Crimes Commission on two different occasions, President Muhammadu Buhari cannot validly re-nominate the same candidate.
Melaye said this on Saturday in response to the debate in the media about whether Magu can continue to act as the EFCC boss in spite of his failure to be confirmed by the Senate or if the President can renominate him.
Melaye said there is a provision of the Senate rules, which would not allow members consider Magu for the same position again.
Citing Order 131 of the Senate Rules, Melaye said after the rejection of Magu's nomination, his candidacy is considered lapsed and therefore advised the President to consider a fresh nominee who is qualified in terms of experience, integrity, knowledge and temperament to lead the anti-graft agency.
Order 131 of the Senate Rules states: "Nominations neither confirmed nor rejected during the session or within 21 working days in the case of Ministerial nominees shall be returned by the Clerk to the National Assembly to the President of the Federal Republic of Nigeria and shall not again be made to the Senate by the President of the Federal Republic of Nigeria."
The senator, who insisted that Magu did not impress anybody, including those senators who would have been sympathetic to his cause during the confirmation hearing in the Senate, urged President Buhari to look for a replacement and avoid actions that may result in violation of the laws of the land.
Melaye said: "Those suggesting to the President that after failing to scale the confirmation process twice, the President should leave Magu to be acting are only recommending violation of the law, disrespect for due process and perpetration of illegality. All these will only undermine democracy and constitutionalism in our country.
"Those drafters of the law who made the provision that the Senate should confirm the nomination of the EFCC chairman did not make any mistake and nobody should observe the law in the breach by getting a person into that office who has not been confirmed. Magu is not greater than the law creating EFCC. Magu is not the last messiah. He can't be the only competent person for the job out of 170 million Nigerians. Should he voluntarily decline the appointment today, will EFCC fold up?"
Copyright The Eagle Online.
Permission to use quotations from this article is granted subject to appropriate credit being given to www.theeagleonline.com.ng as the source.
Follow @DEagleOnline