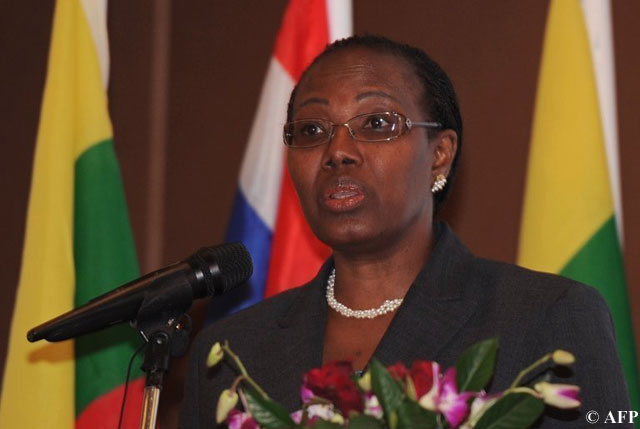 Dr. Fatoumata Nafo-Traoré, Executive Director, Roll Back Malaria Partnership, says malaria-related deaths in Africa had reduced  by one-third from the 2,000 figure.
Nafo-Traoré stated this on Saturday during the launch of 'Malaria Situation Room' at the AU Abuja +12 Special Summit on HIV/AIDS, Tuberculosis and Malaria.
The theme of the summit is: "Ownership, Accountability and Sustainability of HIV and AIDS, TB and Malaria Response in Africa: Past, Present and the Future."
The malaria situation room is an intelligence gathering endeavour that focuses on the 10 most affected African countries to develop more effective solutions to its cure and control.
She said that the achievement was due to the massive increase in financial and technical support by countries over the past years.
She said: "More than a million lives have been saved from malaria since year 2,000, most of them among African children under five years of age.
"Forty-four African nations have recorded more than 50 per cent reductions in malaria cases over the past decade."
Nafo-Traoré said malaria situation room was an initiative meant to support the 10 hardest-hit malaria-endemic countries in their efforts to achieve the 2015 malaria targets.
Dr. Alexandre Manguele, Mozambique's Minister of Health, said a WHO report noted that the gains were confined to smaller countries in Africa.
Manguele said the gains were still low in bigger countries with complex epidemiological settings and operational needs.
Manguele said: "The toll of the disease will continue to affect the majority of the population in our region, if it is not managed in a more focused and co-ordinated manner, especially in bigger countries.
"We have the tools and the resources needed to scale-up the interventions."
He said the problems countries encountered in the fight against malaria were financial and also complex and multifaceted.
He added: "Most of these problems are related to insufficient implementation capacity, such as in areas of human resources, supply of commodities and information-sharing among the stakeholders."
Nigeria's Minister of Health, Prof. Onyebuchi Chukwu, said that the initiative would enable Nigeria to secure much-needed resources to upscale some of the under-emphasised intervention strategies.
Chukwu said: "As we count down to the target date for the Millennium Development Goals, it has become imperative to accelerate progress in the areas where we are either not on track or are far from target.
"This initiative is therefore timely and provides the framework for the scientific monitoring of progress and identification of specific gaps in implementation.
"It will enable us in Nigeria to secure much-needed resources to upscale some of the under emphasised intervention strategies without which the fight against malaria cannot be won."
Copyright The Eagle Online.
Permission to use quotations from this article is granted subject to appropriate credit being given to www.theeagleonline.com.ng as the source.
Follow @DEagleOnline