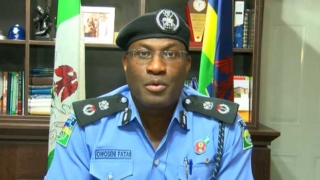 The Lagos State Commissioner of Police, Fatai Owoseni, on Tuesday announced a N30 million reward for anyone with information that leads to the arrest of a notorious kidnapper, simply identified as Evans.
The kidnapper has also been declared wanted in Anambr and Edo States for about four years years now.
It would be recalled that in February, one Donatus Duru was kidnapped by a gang led by the notorious Evans.
Duru, who escaped from the den of the kidnappers, was taken to the police station Igando by good Lagosians, where he was debriefed by the Anti-Kidnapping unit.
The unit after debriefing Duru were led to the kidnappers hideout, a bungalow at 19, Ataye Street, Igando.
Though there was no one found in the building, a number of ammunition were recovered from the building.
Items recovered from the hideout included four AK 47 rifles, two automatic pistols with each having four magazines, with each magazine loaded with 15 rounds of ammunition, 1,272 rounds of live ammunition, 59 AK 47 Magazines, a police bullet proof vest, a Toyota bus and a motorcycle.
Further debriefing of the victim led to the arrest of two people connected to the case.
Owoseni said the two suspects were discovered to be working for Evans.
He said "The security agencies, especially the police, with the state government are putting up an idea of a very robust reward for whoever that can whistle blow and assist the government in apprehending this notorious kidnapper. A very handsome reward will be paid for any information that leads to the arrest of Evans and members of his gang."
Owoseni also mentioned that the police was working with the office of the Attorney General to deal with the kidnappers' hideout according to the law of anti-kidnapping, which is taking it over or destroying the house.
He said: "In the mean time, in accordance with the laws of Lagos State, the Command is already doing what is necessary in collaboration with the office of the Attorney General of the state to deal with the bungalow in question according to law of kidnapping, and that is by taking over the house or demolishing the house. We will make sure that the law takes its course with regards to that property."
Copyright The Eagle Online.
Permission to use quotations from this article is granted subject to appropriate credit being given to www.theeagleonline.com.ng as the source.
Follow @DEagleOnline