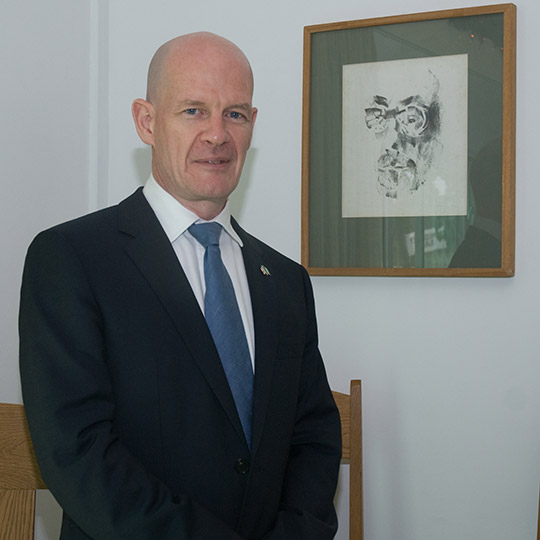 Irish ambassador blames lack of sustainable development in Nigeria on selfish leaders
He said that such had led to a lack of consistency in policy thrusts of successive administrations, adding that it was time political office holders put the interest of their people first
The Irish Ambassador to Nigeria, Sean Hoy, has attributed the seeming lack of sustainable development in the country to deceit and self-centeredness of some leaders.
Speaking in Enugu on Tuesday during a donors' roundtable organised by the state government in partnership with the Department For International Development, Hoy said some governors were self-centered.
He said that such had led to a lack of consistency in policy thrusts of successive administrations, adding that it was time political office holders put the interest of their people first.
Hoy said: "The governors should put the interest of the people first rather than building projects which they cannot finish all in the name of building legacy projects in their memories."
The ambassador noted that abandoned projects abound in many parts of the country because successive administrations discontinued with such projects.
Hoy said that the Enugu State Government was a clear example of a government with consistent development roadmap which should be emulated by others.
He said that the four-point agenda of the state government which had been followed by successive administrations was the right way to go in terms of sustainable development.
He said: "Enugu is secure and needs economic stability. All issues hindering economic development and investment have to be done away with."
Declaring the conference open, Governor Ifeanyi Ugwuanyi said that the state had always been open to reform initiatives by development partners which were integrated into the efforts to achieve national and global goals.
Ugwuanyi, who was represented by his deputy, Cecelia Ezeilo, said that the state government had continued its programme of reforms and development initiatives in spite of the challenges in the economy.
Ugwuanyi said: "It is important to note that we came into office at a time when the nation's economy was in steep decline.
"Rather than enjoy the excess crude oil that was available to our predecessors, I and my brother governors have had to rely on bail out funds to meet some of our needs due to depleted revenue.
"It is for this reason that we have been referred to as bailout governors."
Ugwuanyi expressed gratitude for the contributions of the development partners to the development of the state.
In a goodwill message, the Regional Coordinator of DFID, Dr. Olachi Chuks-Ronnie, expressed regrets that donor intervention in the South East zone was one of the least in the country.
Chuks-Ronney said that though human development indices showed that the zone was not poor, there were still levels of poverty starring them in the face.
Chuks-Rooney said: "There are still things you need to do in the zone to attract pockets of money lying out there to develop the state.
"For the number of years DFID has worked in the state, Enugu always comes out good in terms of performance and we need to sustain it."
The theme of the conference is: "Building a Sustainable Partnership for Achieving the Sustainable Development Goals."