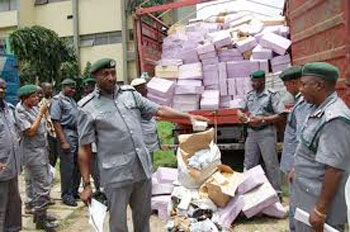 The Western Marine Command of the Nigeria Customs Service says there has been a decline in the incidents of smuggling in the area.
The Controller, Yusuf Umar, said in a statement in Lagos on Tuesday that the proactive measures of the officers were responsible for the development.
Umar said that the command recorded 41 seizures in 2015 valued N67,812,170,00 with N24,370,792.00 as duty and N78,564,732.00 as duty paid value.
The statement said: "20 seizures were made from January 2016 to December 4, 2016 with N3, 358,835,450.00 as value N24, 370,792.00 as duty with N3,383,242.00 as duty paid value.
"It should be noted that in spite of fewer seizures in 2016, the command recorded astonishing duty paid value of N3, 383,206,242.00.
"To compared to duty paid value of N78, 564,732.00 in 2015 with 41 seizures."
According to the statement, this represents 495 per cent increase over 2015 recorded seizures.
It added: "It is a good development as the command will embark on campaigns to further discourage smuggling."
Copyright The Eagle Online.
Permission to use quotations from this article is granted subject to appropriate credit being given to www.theeagleonline.com.ng as the source.
Follow @DEagleOnline