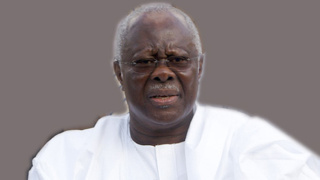 A former Deputy National Chairman of the Peoples Democratic Party, Chief Olabode George, has hailed the performance of the Lagos State Governor, Akinwunmi Ambode, in the areas of infrastructural developments, urging him to do more in order to etch his name in gold upon the completion of his assignments in office.
Speaking in a chat with newsmen on Tuesday, George, who is the Atona Oodua of Yorubaland, said though he has never met Ambode and they belong to different political parties, the governor deserves commendation for what he has done so far in the areas of infrastructural developments in Epe Local Government Area and other parts of the state and also in the area of traffic decongestion in the state.
While admitting that governing a cosmopolitan city like Lagos is a huge task, George, who hails from Lagos Island Local Government Area of the state, also appealed to the governor to help in developing his local government and other areas of the state.
According to him: "I have never met this young man, but I must say that I am impressed with his performance so far, especially in the area of infrastructural developments.
"I don't know everywhere in Lagos because I hardly go round, but I must sincerely commend him on what he is doing in Epe Local Government.
"I am very proud of what he is doing there.
"I passed through Epe recently and I thought I was in a different state.
"I want to appeal to him that when he is done with Epe, he should head back to my local government, which is Lagos Island, so that when he leaves office, not only will Epe people remember him for his performance, but the entire Lagos will remember him and say: 'Yes, there was one Governor that passed through here and his name is Akinwunmi Ambode.'
"I also must commend him in the area of traffic management, especially in the area of traffic decongestion in the state.
"He is a Yoruba man and he is doing his best, but I know that we as opposition will do better when we get there.
"My advice to him is that he should ensure that the standards of living of Lagosians are improved, especially in the areas of education and healthcare.
"I must commend him because it is not easy governing a state like Lagos.
"Lagos is like the New York of the United States."
Copyright The Eagle Online.
Permission to use quotations from this article is granted subject to appropriate credit being given to www.theeagleonline.com.ng as the source.
Follow @DEagleOnline