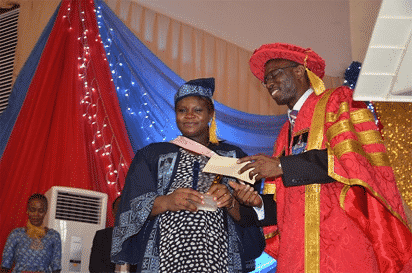 A pregnant woman, Elizabeth Orefuwa, the Lagos State University best graduating student in 2015/2016, says she wrote the Unified Tertiary Matriculation Examination of the Joint Admissions and Matriculation Board seven times before gaining admission.
The News Agency of Nigeria reports that the heavily pregnant student, graduated with a Cumulative Grade Point Average of 4.74 in Accounting Education.
Orefuwa, 29, said during the institution's 21st convocation on Wednesday in Lagos that the journey through the institution did not come easy but with determination and motivation, she had success a story to tell.
She said in the process of seeking for university admission, she started a professional career in accounting.
Orefuwa said: "The journey through the institution was not easy; it took me seven years of writing the UTME before I finally gained admission in 2012.
"I also applied for direct entry three times at the Obafemi Awolowo University, Ile-Ife.
"During this period of waiting, I started professional career at the Institute of Chartered Accountant of Nigeria in 2007 and became qualified as an Associate Chartered Accountant in 2010."
Orefuwa said she wanted to study accounting but fate brought her to education, adding that she enjoyed every bit of it and never dreamt of coming out with a first class and becoming the best student.
According to her, self-determination and motivation through her father's insisting on academic excellence give her an edge.
She said: "My aim is to get my first degree certificate after several years of waiting and to satisfy my dad, who has been insisting on academic certificate before professional certificate.
"He would always say to me then that I have put the cart before the horse.
"However, what kept me going was self-belief, focus and determination bearing in mind that I am not competing with other but with my own capabilities."
Orefuwa said her marriage at the beginning of her final year and the pregnancy did not affect her academic performance.
Orefuwa said: "I had a CGPA of 4.72 before marriage and I graduated with 4.74 point.
"I got married during my final year in 2015 and my husband was very supportive throughout that period."
Although a chartered accountant, Orefuwa said she would love to teach and combine it with practising accounting profession.
NAN.