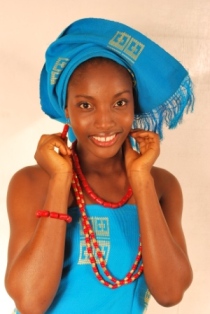 House of Reps member marries beauty queen
Makinde, a House of Representatives member, officially unveilled his new but younger wife, Oyebanke Oyelami, the newly crowned Miss Osun at his recent chieftaincy title coronation as the Balogun Fiwagboye of Ila-Orangun, Osun State
Popular Yoruba actor turned politician, Hon. Rotimi Makinde. has picked a beauty queen as new wife.
Makinde, a House of Representatives member, officially unveilled his new but younger wife, Oyebanke Oyelami, the newly crowned Miss Osun at his recent chieftaincy title coronation as the Balogun Fiwagboye of Ila-Orangun, Osun State.
The title was conferred on him at the palace of Oba Wahab Oyedotun, the Bibire of Ila-orangun, Osun state.
This latest development came to the fore years after Rotimi Makinde dumped his wife, Bolaji, like a bad habit.
Sources close to the former accountant with the Nigerian National Petroleum Corporation, revealed that trouble between the couple had been running for a while before it eventually culminated into a full fiasco that led to their separation.
And the sudden separation came after Makinde won the election in Osun State as a member of the House of Representatives.
However, after the story hit town, several questions have continued to trail Makinde's decision to dump the woman who stood by him during his trying times.
So serious was the Ifewara born politician that he even went to court to dissolve the marriage so that it would not have effect on his current status in the country.
And many believed that Hon. Makinde took that decision immediately after his victory, believing there would be much money in his kitty to take another wife. Bolaji, who has accepted her faith after the failed marriage, has since taken the custody of the children.