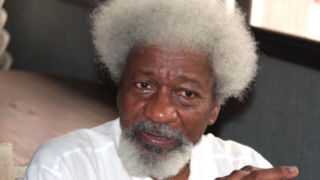 Nobel laureate, Prof. Wole Soyinka, raised the alarm that Fulani herdsmen have invaded his home again.
The house is located in Abeokuta, the Ogun State capital.
Soyinka, who spoke with newsmen in Lagos on Friday, said the invasion was an act of provocation.
He said he has since reported the development to police and the Alake of Egbaland, Oba Gbadebo Adedotun.
According to Soyinka, the herdsmen who also invaded the farms of his neighbours recently, came right to his doorstep and a in brand new way sliced into his sanctuary and ecological preserve.
He described the invasion as rampaging impunity, adding: "We are living in a very dangerous time.
"The herdsmen made me convinced that it is a deliberate act of provocation.
"I don't believe in conspiracy theory but the incidences that have taken place in the sanctuary are very alarming.
"The police have the records.
"They do not have respect for human life.
"They use human beings for suicidal bombing.
"Why should they not use cows as suicide bombers?
"I see no other interpretation to all of this than a movement to enslave the citizens of the country and show that they are masters of the land.
"They are camping not as peaceful neighbours but as conquerors.
"One has the right to assume that any cow that comes right to one's doorstep is a suicidal bomber."
Soyinka is unhappy that the security agencies are shirking their responsibility of protecting the citizens who are now left to look after their safety.
He asked Nigerians to wake up the nation's leadership on life and death issues, especially on one's land.
He said: "Herdsmen are worse than Boko Haram.
"Some kind of action is required, maybe declare a day of beef boycott to compel the leadership to take holistic action."
On the plan by the government to create a grazing corridor for herdsmen, he said: "Creating corridor for cattle grazing will compound the problem.
"I do not think that is the solution."
Copyright The Eagle Online.
Permission to use quotations from this article is granted subject to appropriate credit being given to www.theeagleonline.com.ng as the source.
Follow @DEagleOnline