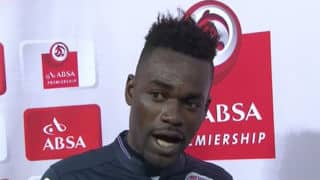 A Ghanaian footballer playing for a South African team accidentally thanked both his wife and his girlfriend after scoring two goals, on a video posted on YouTube.
Free State Stars striker, Mohammed Anas, gave an interview after a 2-2 match against Ajax Cape Town, saying he thanked God for his performance.
Anas said: "I appreciate my fans also, my wife and my girlfriend."
He then tried to correct his mistake: "I mean my wife, sorry."
The video posted over the weekend sparked amused comments, with one of them simply saying: "Too late."
Copyright The Eagle Online.
Permission to use quotations from this article is granted subject to appropriate credit being given to www.theeagleonline.com.ng as the source.
Follow @DEagleOnline