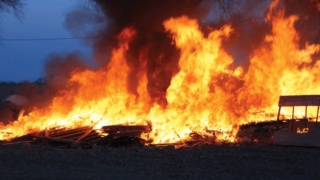 Fire outbreak in the early hour of Friday destroyed property worth millions of naira in Tsamiya village of Ambursa District in Birnin Kebbi Local Government Area of Kebbi State.
The News Agency of Nigeria reports that the fire also killed some livestock and destroyed foodstuffs worth millions of naira.
Alhaji Sani Dododo, the Chairman of the Kebbi State Emergency Management Agency, who visited the scene of the incident on Friday, expressed sympathy to the affected persons.
Dododo said: "This is unfortunately and shocking. I implore you to take solace and consider it as an act of God. We thank God there was no loss of lives.
"You should also be careful and cautious on the danger of poor storage of combustible materials and misuse of electric appliances in houses."
He called on members of the public and community leaders to sensitise their people to the need to stay clear of the fire prone activities.
Dododo also commended the state Fire Service for its prompt action towards stopping spread of the fire.
Speaking at the scene, the Village Head of Tsamiya, Alhaji Bagudu Ibrahim, explained that the incident started from the Eastern part of the village and destroyed household items before the prompt intervention of the fire fighters.
He urged Governor Atiku Bagudu to assist the victims.
He said: "We are grateful that the present regime had expressed readiness to render all the necessary assistance needed by the victims."
Copyright The Eagle Online.
Permission to use quotations from this article is granted subject to appropriate credit being given to www.theeagleonline.com.ng as the source.
Follow @DEagleOnline