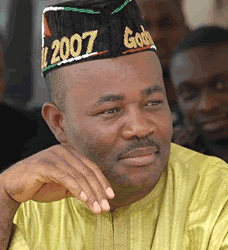 FG told to reopen abandoned oil wells in Eastern Obolo
A total of 32 oil wells located in Oko, Okoroette and Utapete communities were explored, sealed and abandoned 17 years ago by Shell Petroleum Development Company of Nigeria
The Federal Government has been asked to assist in the reopening of abandoned oil wells in three communities in Eastern Obolo Local Government Area of Akwa Ibom State for increased daily oil production.
A total of 32 oil wells located in Oko, Okoroette and Utapete communities were explored, sealed and abandoned 17 years ago by Shell Petroleum Development Company of Nigeria.
Governor Godswill O. Akpabio made the appeal on Tuesday when the Chairman of Eastern Obolo Local Government Area, Rt. Hon. Francis Charles, accompanied by stakeholders from the communities making up the UTAPETE Oil Field paid him a courtesy visit at the Governor's Lodge, Uyo.
Akpabio remarked: "These oil wells were operated by Shell Petroleum Development Company of Nigeria 17 years ago, which have been locked up and now constitute a nuisance and endanger the lives of the children of Eastern Obolo for so many years.
"These oil wells are on-shore.
"I appeal to the Federal Government to plead with Shell Petroleum Development Company and the Minister of Petroleum Resources to do everything possible to get the wells functional and reopened, so that business can enter into the towns, our children can have employment opportunities, our state can improve on on-shore oil capacity and so that some industries would come to Eastern Obolo.
"It is for the overall interest of Nigeria to improve on the daily production of oil and I don't see any reason why so many millions of barrels of oil would not come in those 17 years, and if we do not re-open them now, they could be locked up for more 17 years.
"So, I want to work with the Chairman, traditional rulers, stakeholders, immediate communities and Eastern Obolo as a whole to make sure that in the shortest possible time, the oil wells would spring up there.
"And I pray the resources that would come from there will not be a curse but a blessing to the communities, bringing development, peace, harmony and not acrimony."
On the issue of boundary problems between Eastern Obolo and other surrounding local government areas, Akpabio said: "I have noted your request to look into the issues of boundary between you and the local government areas that surround you such as Mkpat Enin, Onna and Ikot Abasi.
"I want to assure you that my Deputy Governor, Lady Barrister Valerie Ebe, who is a lawyer, would work with the Commissioner for Justice and Attorney General and other legal practitioners to bring the issues to a conclusion.
"Most importantly, the issue of boundary is always a live-or-take matter and each local government matter is a matter for the Local Government Commission and the state boundary issue is a matter of the National Boundary Commission.
"So, since this is an intra state, I think we should be able to resolve all the issues.
"Be rest assured that Eastern Obolo as one of the local government areas that was created and mentioned in the Nigeria's Constitution, which has come to be and what you want is a clearly defined boundary.
"So, this issue of disagreement with your brother and sister in the other local government areas would come to an end.
"For what you are looking for is peaceful co-existence and harmonious living."
Akpabio announced his intention to appoint a Special Assistant on Petroleum Matters to bring him information on the oil wells issue, which would be a time for more development, partnership between the local and state governments.
Charles said that the local Government needed to enjoy the 32 oil fields that God has blessed them with, explaining that the wells were operated by Shell Petroleum Development Company and were shut down 17 years ago due to the attempt of transporting gas along Eastern Obolo through Ogoni, which led to a high level of crises that brought the work to a halt.