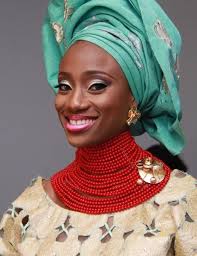 By: Taiwo Oyebanjo
It is no longer news that she recently got engaged to COOL FM 96.9's On-air-personality, Dotun. After a spectacular engagement ceremony which took place in Sagamu, Ogun State, the bride's home town, the couple walk down the aisle today, August 3rd,2013. Though the engagement has come and gone, many cannot stop talking about the pearls worn by Taiwo Oyebanjo, Dbanj's younger sister which was supposed to compliment her Aso-Oke (Unfortunately, it did not)Keen observers reached the consensus that her neckline was too busy; literally choking her. It wasn't nice at all, maybe if she was wearing an evening gown, it would have been more appropriate for the occasion. Gosh, what was she thinking? Many continue to ask. One respondent says'' For me, I was really looking forward to seeing what she would wear on her special day; you know as Dbanj's sister, everyone was really looking forward to what her ensemble would be on her special day. The reverse was the case as her neckline seemed too busy with the neck pearl that she was wearing. I must confess that she wasn't too impressive on that day''. Another respondent who simply wants to be identified as Lucy said that Dotun outshone her on that day. Hear her: 'If you ask me, the groom was looking more dapper and debonair at the engagement. Even, Taiwo's make-up was a little bit odd. I liked the Aso-Oke combination which really suited the duo though. Many expected her to do better. We'll see pictures of the white-wedding soon so let's keep our fingers crossed for a better showing''
These days, every bride wants to look beautifully different on her special day.  From the engagement to the wedding proper, she is supposed to be the cynosure of all eyes because the day is all about her. She doesn't want you to steal that precious once-in-a-lifetime moment from her (Though, there have been cases where guests actually outshone the bride. Not too good, you would say) When that doesn't happen, trouble looms. The key thing is that less is more so be careful and don't go overboard on your special day.
Copyright The Eagle Online.
Permission to use quotations from this article is granted subject to appropriate credit being given to www.theeagleonline.com.ng as the source.
Follow @DEagleOnline