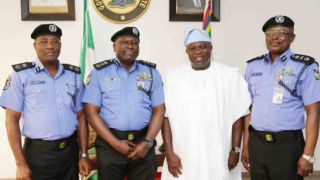 The Deputy Inspector General of Police in charge of South West geopolitical zone, Foluso Adebanjo, on Wednesday commended the security arrangement in Lagos State, urging other States to adopt the synergy among security agencies in the State.
Addressing journalists at Lagos House in Alausa, Ikeja shortly after a courtesy visit to Governor Akinwunmi Ambode, the police boss said the collaboration among security agencies in the State was worthy of emulation, specifically with respect to stemming the tide of increase in crime.
Adebanjo, who is also in charge of Information Communication Technology at the force headquarters, said the meeting with Ambode was part of engagement with strategic stakeholders to enhance security, adding that it was important for all actors to partner to scale up the security architecture of the State.
He said: "The IGP has directed that all DIGs should go to their respective geopolitical zones to assess the crime situation and to proffer solutions.
"Yesterday, I met with community leaders and then all the police officers from the Commissioner of Police to Area Commanders and the Assistant Inspector General of Police (AIG), Zone 2 was also there. We had people from our Eminent Persons' Forum and the Police Community Relations Committee.
"All the stakeholders were there and I also met with the Military, including Service Commanders.
"The purpose is just to see what is happening in this State and see what we can do to enhance relationship and partnership which is very key.
"Lagos has been blessed with good heads of security agencies.
"The CP of Lagos is doing his best.
'I met with the Service Commanders, the Department of State Services and others and I can confirm that they are doing a very good job.
"Lagos is a place to be emulated because there is so much synergy among the security agencies."
The DIG, who briefed journalists alongside the AIG Zone 2, Adamu Ibrahim, and the Lagos State CP, Fatai Owoseni, also counselled police officers to always carry out their duties without harassing the people.
He said: "As Police officers, our duty is to serve and protect the people who are actually our boss.
"It is from the taxes that people pay that we are paid and so we must show respect and restraint and we can do our job without being harsh on the people.
"Nigerians are not criminals. Criminals will be dealt with when they commit any offence and we can do our work with human face."
Besides, the police boss advised people with criminal intents to stay away from Lagos and the South West zone as there would be no room for them to operate.
Adebanjo said: "My message for criminal elements is simple and I just want them to know that they cannot escape. If you commit any crime in Lagos State, you will be arrested and prosecuted in accordance with the law. I can assure the people of that."
Copyright The Eagle Online.
Permission to use quotations from this article is granted subject to appropriate credit being given to www.theeagleonline.com.ng as the source.
Follow @DEagleOnline