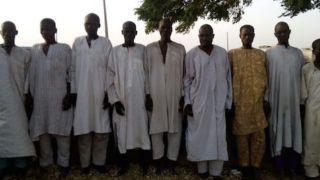 Troops have arrested a 45-year-old suspected Boko Haram terrorist, Makinta Ibrahim, said to be the supplier of petrol and other items to the remnants of the insurgents.
The suspect was arrested at Bay emeritus village in Yobe State.
Brigadier General Sani Usman, the army spokesman, who confirmed the arrest in a statement on Thursday, said the suspect hailed from Yaro Grematalti Yunusari Local Government Area of Yobe State.
Usman added that the troops also arrested another suspected Boko Haram terrorist whose name, age and origin could not be ascertained for now as he pretended to be deaf and dumb.
He said: "However, he was found to be in possession of eight functioning mobile telephone handsets, bunch of keys, two passport photographs, two amulet charms and a transistor radio.
"Both suspects are being further investigated."
Meanwhile, Usman said nine suspected Boko Haram terrorists from Tambashe village, Dikwa Local Government Area of Borno, voluntarily surrendered to troops deployed along Dikwa-Gulumba Gana road.
According to him, the suspects claimed to be tired of the situation under the Boko Haram terrorists group and willingly surrendered themselves to troops as a mark of repentance.
Usman said: "Nevertheless, the repentant suspects are further being investigated."
Copyright The Eagle Online.
Permission to use quotations from this article is granted subject to appropriate credit being given to www.theeagleonline.com.ng as the source.
Follow @DEagleOnline