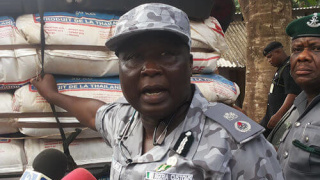 The Nigeria Customs Service, Federal Operations Unit Zone 'C' Owerri has impounded a 40 feet container of 2,000 cartons of imported frozen poultry products cleverly concealed with 3,300 crates of Lacasara drinks with a Duty Paid Value N53.3 million on the Benin Expressway in Edo State.
The items were suspected to have been preserved with chemicals meant for the preservation of dead bodies by the smugglers.
This came on the heels of the seizure of 1,500 cartons of the same hazardous products in January, 2016 by the unit.
The Customs Area Controller in charge of the Unit, Comptroller Haruna Mamudu, disclosed this while briefing newsmen at the Customs House premises in Benin, Edo State.
Mamudu explained that the recent seizure of imported frozen poultry products coincided with the end of February month report, which has it that 27 seizures were recorded with a DPV of N219,239,208.21.
According to him, 12 suspects were arrested and N65,434,441.00 underpayment recovered during the month.
Comptroller Haruna stressed the consequences of continued importation and consumption of unauthorized products in the country.
He regretted that such products easily come in because of their relative cheap prices, which usually attracts members of the public, especially the youth.
The Customs Area Controller who subsequently handed over the fake drugs to officials of the National Agency for Food, Drug Administration and Control through the Director in Edo State, David W. West, in the presence of other sister agencies, warned those still engrossed in the illicit act of smuggling, their collaborators and agents to desist forthwith in their own interest or be prepared to face the full weight of the law.
He questioned why smuggling of contraband goods had remained unabated in the country despite stiff penalties for culprits arrested and advised well meaning Nigerians with useful information about smugglers to make them available to relevant government agencies for necessary action.
He said that the NCS in pursuance of the policy of zero tolerance to corruption by the Federal Government would ensure that there is no hidden place for smugglers.
He said: "Zero tolerance to corruption is now on and which is being pursued with vigour by the Comptroller-General of Customs, Colonel Hameed Ibrahim Ali (rtd)."
Copyright The Eagle Online.
Permission to use quotations from this article is granted subject to appropriate credit being given to www.theeagleonline.com.ng as the source.
Follow @DEagleOnline