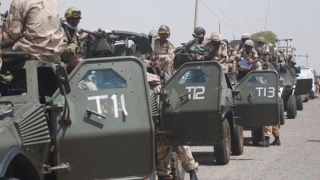 The Nigerian Army has recovered about 300 cattle from rustlers in various parts of Zamfara State, Brigadier General Ginikanwa Nwosu, the Commander, 1 Brigade of the Nigerian Army, Sokoto, has said.
Nwosu spoke on Tuesday in Sokoto when he addressed newsmen at the Nigeria Union of Journalists Press Centre.
Nwos said: "The recovery was part of the myriad of successes recorded by the military in the fight against cattle rustling, kidnappings and other forms of armed banditry.
"We are going to hand over the recovered cattle to the officials of the Zamfara Government for onward delivery to their owners.
"We are recovering an average of 500 cattle from the rustlers weekly and we will sustain the tempo."
Nwosu announced that the military recently deployed more troops to various parts of Zamfara State to reinforce the fight against cattle rustling, kidnappings and armed banditry.
He said: "Though there are some isolated cases of cattle rustling and kidnappings for ransom, the ugly situation will soon be history.
"We are doing all we could to combat the menace and very soon the situation there will be pacified."
Nwosu pledged to "sustain the current tempo of cordial relations between the military and the journalists, as well as the civilian population".
He said: "Soldiers have been warned against molesting civilians and there are laid "down procedures to address areas of friction."
The State NUJ Chairman, Isa Shuni, had earlier commended Nwosu for the visit, describing it as the first by any Commander of the Brigade.
Shuni further hailed Nwosu's recent ban on the sale of illicit drugs in some shops at the Giginya Barracks, Sokoto.
Shuni said: "We will continue to discharge our constitutional duties objectively and diligently."
Copyright The Eagle Online.
Permission to use quotations from this article is granted subject to appropriate credit being given to www.theeagleonline.com.ng as the source.
Follow @DEagleOnline