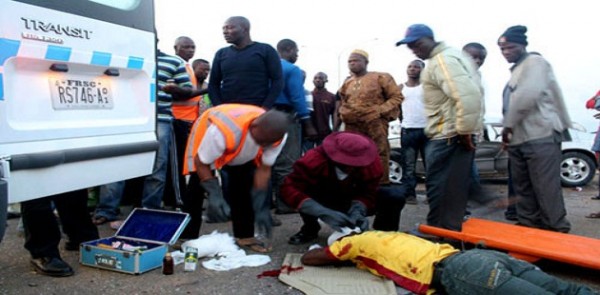 3,400 people die daily in road accidents – UITH's Research Director
Nasir, the Director of the Centre for Injury Research and Safety Promotion, Department of Surgery, University of Ilorin Teaching Hospital, made this known at a sensitisation programme on trauma training in Ilorin
A medical researcher, Dr. Abdulrasheed Nasir, on Tuesday said no fewer than 3,400 people die daily across the world as a result road crashes.
Nasir, the Director of the Centre for Injury Research and Safety Promotion, Department of Surgery, University of Ilorin Teaching Hospital, made this known at a sensitisation programme on trauma training in Ilorin.
Nasir said: "Road traffic collisions kill and injure millions of people every year with over 1.2 million people killed each year, making road accidents leading cause of deaths."
He was quoting from the World Day of Remembrance for Road Traffic Victims 2016 Survey conducted by the Association for Safe International Road Travel.
Nasir said the devastation that road accidents wreaked on victims, their families, friends and communities was incalculable.
According to him, the tragedy was worsened as it was mainly the young and healthy, those in their prime of life and supporting their families, who were killed.
Nasir said: "At the UITH Centre for Injury, Research and Safety Promotion, trauma data shows that injuries accounted for about 70 per cent of emergency admissions.
"It also revealed that more than 70 per cent of injuries are caused by road traffic crashes, and sadly, 70 per cent of these trauma deaths are preventable."
He said that many countries had achieved sharp reductions in the number of crashes and casualties by putting in place effective counter-measures.
The director said that providing support and care for the injured victims and bereaved families was an integral part of the post-crash response.
Nasir stated: "Mitigating actions must be included in any strategy and services for victims such as assistance with legal issues, physical therapies, counselling, provision of wheelchairs or rehabilitative devices."
Nasir urged the Federal Government to make strong political commitment toward addressing road safety crisis.
He said that this required political commitment in the form of effective laws, strategies, policies and programmes.
Nasir gave tips on prevention of accidents on Nigerian roads including avoid speeding, use of cell phones and alcoholic consumption while driving, cyclists should wear helmets and teaching of children on road crossing.