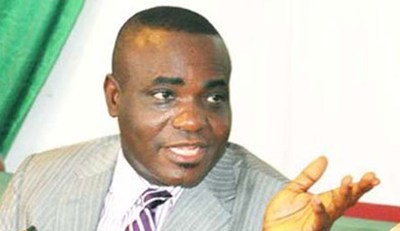 Senator Ita Enang says consultations are ongoing to resolve the impasse that led to National Assembly's non-approval of the 30 billion dollars loan request by President Muhammadu Buhari.
Enang, the Senior Special Assistant to the President on National Assembly Matters (Senate), made this known when briefing newsmen on Wednesday in Abuja.
He explained that the loan was not out rightly rejected by the Senate but sent back to the Presidency for further consultations.
The Senate on November 1 rejected plans by Buhari to engage in external borrowing of $30 billion.
The loan, which was thrown out with a voice vote, is meant for the execution of key infrastructural projects across the country between 2016 and 2018.
Enang explained that there were lots of misunderstanding on the benefits of the loan to the generality of Nigerians.
Enang said: "On the request of Mr. President for approval to take a loan, remember that this $30 billion dollar request was not what was to be spent in 2016, 2017 or 2018.
"It was a projection for three years; therefore the Senate has remitted it back to the Mr President requesting further explanation. The legislative process is still pending.
"I am sure you observed in recent times the level of consultation between the arms of government and the apex leadership level and also between the ministers and the committee.
"These are all intended to address and resolve any question which could be thorny in any of the request made by the executive.
"And don't also forget that the request of Mr President was not only for the Federal Government.
"So the request of the various state governments to take loan for varying projects is also contained therein."
The special assistant said the approval of the loan would benefit the country in many ways, adding that it would help to resolve some of the economic challenges being faced in the country.
Enang commended the National Assembly for its collaboration with the executive in ensuring good governance for all Nigerians.
He further commended the media for their contributions to the entrenchment of democracy in the country.