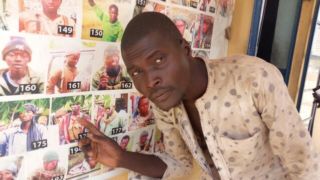 A wanted Boko Haram commander, Muhammad Adamu Nafiu, has confessed to killing over 150 persons in Bala Local Government Area of Borno State.
According to available information, Nafiu was number 176 on the list of wanted Boko Haram commanders released by the Nigerian Army.
He was arrested by police detectives in Bauchi State.
A statement on Wednesday by the Bauchi State Commissioner of Police, Garba Baba Umar, said Nafiu, from Balanga in Gombe State, was arrested in Tama village, Toro Local Government Area of Bauchi State.
Umar described Nafiu as "a notorious member of Boko Haram who relocated to Tama village in order to evade arrest after they were dislodged by troops at Sambisa Forest".
He said preliminary investigation also revealed that the suspect was among those declared wanted by the Nigerian Army and was number 176 on the list.
He was said to have voluntarily confessed to have killed over 150 people in Baga Local Government Area of Borno State.
Umar added: "Case under investigation after which suspect would be handed over to the appropriate authority for discreet investigation."
Copyright The Eagle Online.
Permission to use quotations from this article is granted subject to appropriate credit being given to www.theeagleonline.com.ng as the source.
Follow @DEagleOnline