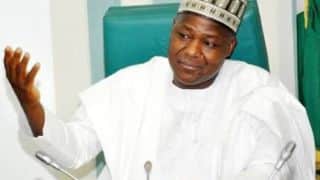 The Speaker of the House of Representatives, Rt. Hon. Yakubu Dogara, has called on the people clamouring for the conduct of population census in 2018 to exercise patience till after 2019 elections when there will be no political pressure to manipulate its outcome.
Dogara said conducting population census in an election year may generate unrealistic results, and therefore advised that the next administration should conduct the census at the beginning of its tenure when there isn't so much at stake.
Dogara stated this in a statement issued by his Special Adviser on Media and Public Affairs, Turaki Hassan, in Abuja.
The Speaker explained said: "I won't advice anyone to conduct national census in 2018. I said it before that if we are not going to achieve it in 2017, then we should just forget it until after 2019.
"If you conduct census at the niche of elections, there will be so much pressure, crisis and the lure for people to manipulate the figures for political reasons, such that the agency cannot even cope with. So it is better for a fresh administration to conduct this exercise from the beginning of that administration when we do not have any pressure of elections in sight. Then we may have something that resembles reality, but I can bet you if the census is conducted in 2018, the outcome will be doubtable.
"Seriously speaking, because I know who we are and I know the kind of litigation, backlashes, the pressure and we don't need that now to be candid. We have so many challenges, let's empower the agencies to keep building on the blocks that they will leverage on in the future in order to do the exercise but doing it in 2018, honestly it is nothing I would advocate."
Copyright The Eagle Online.
Permission to use quotations from this article is granted subject to appropriate credit being given to www.theeagleonline.com.ng as the source.
Follow @DEagleOnline